Does this sound familiar?
You're fed up with frizzy, messy curls. You want to do something about your natural curls but don't know where to start—and finding tips on how to take care of curly hair for men online either gives you an overwhelming amount of information or not enough. You want your curls to look great, but you also don't want it to be hard work.
If you check off any of these boxes, then your search stops here!
At Formula F=kx, we're all about making men's curly hair care as simple as possible. Learning to feel confident in and take care of your curls doesn't have to be complicated!
There are three essential parts if you want to know how to take care of curly hair for men:
2) understanding basic curl care
3) learning how to style men's curly hair
We're walking you through each part here today! With these curly hair care tips, you'll have a solid grasp on how easy it is to care for your curly hair—and you'll be ready to confidently go out into the world with the sleek, handsome curls you were born with.
Let's jump right in!
Part One: Know Your Curl Type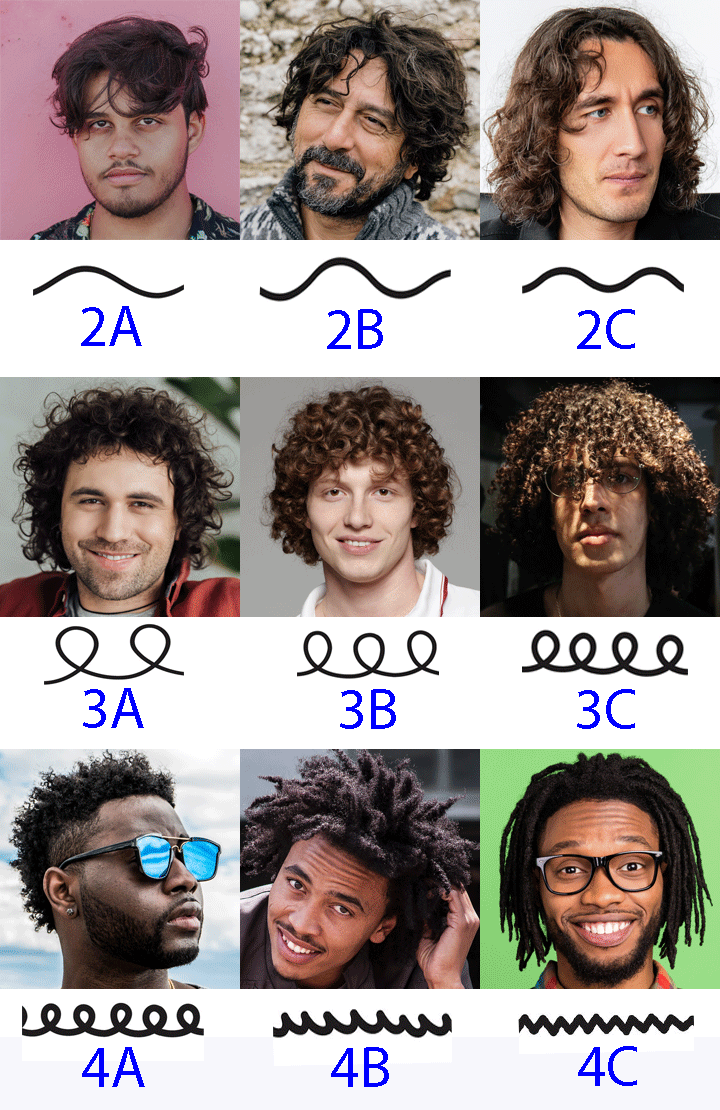 To take care of your curls, you must first know what curly hair you have. Hair surprisingly comes in more varieties than just straight, wavy, and curly!
We have a more in-depth guide on how to find and take care of your curly hair type for men under The Guide section of the website, so here we'll just give you a quick run-down. Each type is broken down into A, B, and C sub-categories.
Thankfully, discovering your curl type is as simple as reading the descriptions and looking in the mirror.
While men's curly hair care tips can generally apply to each type, knowing the differences will help you make subtle changes to your care routine that will impact the look and feel of your curly hair.
One more thing… You can actually have a combination of wave and curl types! These descriptions aren't a one-size-fits-all and are instead just a helpful guide.
Type 2: Wavy Hair
Wavy hair is what's known as Type 2 hair in the hair care world. Naturally, it's a step up from straight hair (Type 1). The appearance of wavy hair can range from loose to almost curly.
Men can have hair that starts out as wavy and becomes curly as it grows, hair that starts out curly and becomes wavy as it grows, or hair that is wavy at the top and curly towards the bottom. So, it helps to understand waves in addition to curls.
The sub-categories of wavy hair progress as hair goes from slightly wavy to borderline curly—with 2a waves being the loosest and tousled-looking, 2b waves taking on more of an "S" shape, and 2c waves being more defined and might even curl up a bit if the conditions are just right.
What you need to know about wavy hair: It's not as dry as other curly hair types, but you still need to keep it moisturized without adding too much weight through styling products.
This is especially important for thinner hair, which waves often are.
Type 3: Curly Hair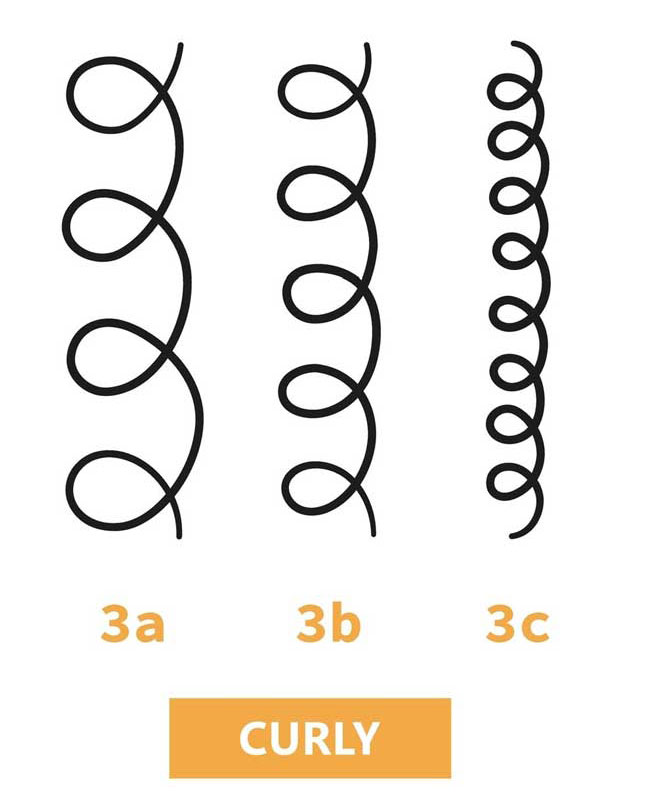 Curly hair is, well, curly! It's identified by its consistent spirals and springy appearance, which come in a wide spectrum of curliness. Type 3 hair is what you probably think of when you think of curly hair.
Each sub-category of curly hair is defined by how tight the curls are.
Type 3a curls are looser but still consistently maintain their curly behavior, which sets them apart from 2c wavy hair.
The next level is type 3b curls, which are noticeably more springy and tighter while still having some width to each curl.
Type 3c curls are often called ringlets because of their very tight and springy appearance.
What you need to know about curly hair: It's much more susceptible to dryness, and you shouldn't wash it as often as wavy or straight hair in order to minimize damage.
Moisturizing products are definitely needed, and the amount used will correlate to your curl type, hair thickness, and hair density.
Type 4: Coily Hair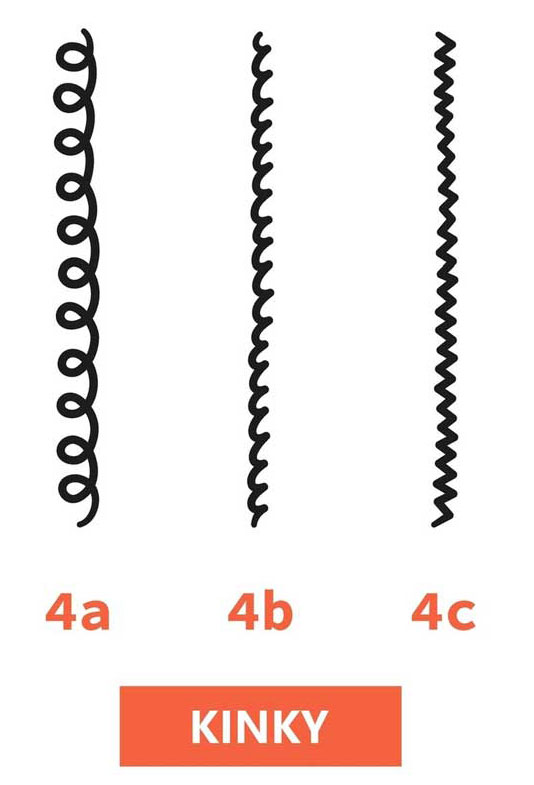 Lastly, we have coily hair, which is categorized as Type 4. You might have also heard coily hair referred to as kinky or Afro hair.
While still curly, coily hair has unique characteristics different from type 3 curls. And, as the name suggests, coily hair is identified by its very tight curls and coil-like corkscrew pattern, sometimes appearing in a "Z" pattern.
Type 4a coily hair has dense coils with a small diameter, having the group's most "curl-like" appearance.
The next step up is type 4b, which has more tight coils and is easy to shape for different hairstyles.
Finally, type 4c takes on more of the "Z" pattern with its most tight coils.
What you need to know about coiled curls: It's the driest of all curl types, as the natural oils from your scalp cannot easily reach the ends.
This type requires the most moisturization of all and should only be washed once or twice a week.
Part Two: Basic Curl Care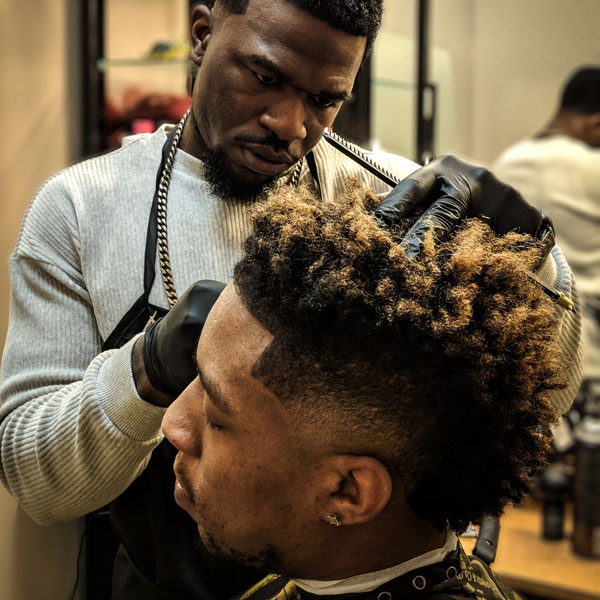 We've finally reached the part you're really here for — How to take care of men's curly hair! We could go on for ages about everything you can do to care for your curls, but we'll save that for the rest of The Guide.
Here, we're fulfilling our promise to keep it simple with the top six ways to take care of curly hair for men.
Wash only as often as needed. — Curly hair is naturally dry. Sadly, washing too much will only make things worse. This is because while water and shampoo rinse away things like dirt and sweat, they also wash away your natural hair oils that keep your curls hydrated and protected. The curlier or collier your hair is, the less often you should shampoo it. Shampooing should be only 3-4 times per week at the wavy end and only once or twice a week at the coily end. Curly hair in the middle should be washed as often as you need it without overdoing it. Overwashed hair is often the culprit behind frizzy curls.
Air-dry over blow-dry. — You may be tempted to blow dry your hair first thing out of the shower in order to get a move on with your day, but blow-drying only adds to your curly hair woes. The heat and abrasion of the hair dryer only makes the dryness and frizziness of curls worse. Always find yourself in a rush in the morning? Blow-dry on low power and low (cold air) to medium heat if needed for styling purposes. A diffuser attachment is a key purpose if you're going to be blow drying on the regular.
Say no to friction damage — A Regular towel has a rough texture that can cause friction irritation to the cuticle resulting in split ends, frizz & an inability for your hair to regulate moisture. If it sounds like a recipe for hair, it's because it is. Instead, opt for a microfiber towel to mop up excess water. A t-shirt is also another option. both a microfiber towl and t-shirt will reduce the friction and help to tame frizz and put on the path to healthy, great-looking hair. Your towel might not be the enemy, but the frizzy hair it creates is.
Use the right products, and use them in the right way. — This is a hefty one. Using the right products for your curly hair includes shampoo, conditioner, creams, gels, mousses, and anything else you can think of. Avoid products with harmful ingredients such as sulfates and alcohol, and instead look for ingredients like coconut oil, keratin, or goji berry extract (just to name a few).

For dry type 3 hair and type 4 hair, use a leave-in conditioner or a curl cream to lock in moisture all day. This is especially important for long hair.
While your hair needs moisturizing products, be sure also not to overdo it and use more than you need. Using too many hair products (even good ones!) can cause your curls to be weighed down, and lose the soft springiness required for a great curly hairstyle. You might need to experiment a bit to find how much product works best for your curls!
Wear headgear wisely. — It's no secret that many guys really love their hats. They can be super handy for hiding frizz and keeping the sun out of your face when doing outdoor activities. At the same time, wearing hats, bandanas, swim caps, or any other headgear too often can cause damage to curls. We're not just talking frizz—we're talking breakage, split ends, and curls that won't keep a consistent curl pattern. There's nothing wrong with wearing hats when you need to, but you'll be pleasantly surprised how great your curls look when you do without more often.
Find the best cut and style for you. — One man's curly hair is never completely the same as another man's. Finding the best cut not only helps you feel more confident in your curls, but it also helps keep them healthy! Not all hairstyles work for all types of curly hair, so you'll need to discover what styles you like best, find a good stylist to help you achieve that look, and learn some simple tips to do at home. Don't worry, we cover all this next!
These tips are just the basics to get you started with curly hair care. So when you're ready to learn more, we recommend checking out our Complete (Step-by-Step) Curly Hair Routine for Men!
Part Three: How to Style Men's Curly Hair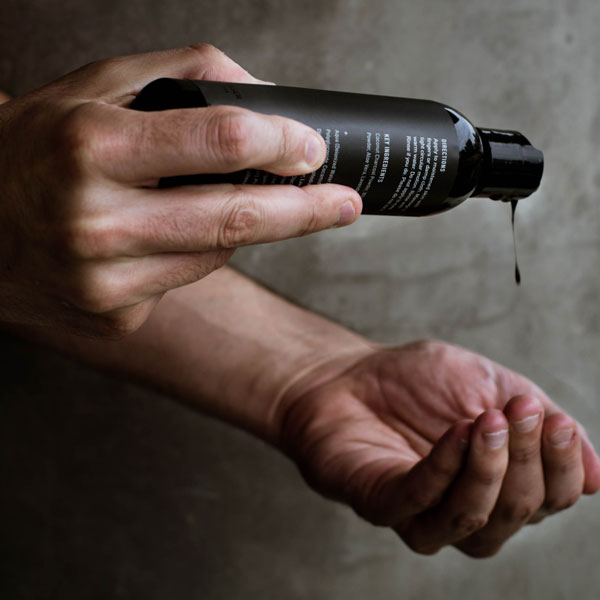 There are a million and one different ways to style men's curly hair. The curly hairstyles best for you will depend on the unique characteristics of your hair, your own personal style, and how much effort you're willing to put into it. Even the most simple and easy men's curly hairstyles can look sharp!
The key to making your curls effortlessly model-worthy starts with developing a good curly hair care routine following some of the tips mentioned above. Once you have a good routine, you can then start experimenting with your ideal curly hairstyle.
Some useful tips and tricks for mens' curly hairstyles include:
Style your hair only when it's damp. You'll be working against the clock to comb through your hair, get in all the post-shower products you need, and style it into place before your curls begin to dry.
Use a wide-tooth comb or your fingers to comb through your hair when wet. This will help your curls maintain their iconic spiral shape with plenty of volume.
When using leave-in products like a curl cream or a mousse, gently massage the product into your hair starting from your scalp down to the ends. This makes sure every inch is evenly covered for the best results.
A little product can go a long way, so be sparing with your creams, mousses, gels, or sprays. Too much can weigh your curls down, making them look stiff or flat. It's better to start with less when trying a new hair styling product and gradually use more each time you style to find the right amount.
Get your ends trimmed with a point cut instead of a blunt cut. This will give your curls softer and more natural-looking ends. You'll be surprised how much better this makes your curly mane look.
The goal of styling is to get the look you want while reducing frizz, defining your natural hair texture & keeping your hair healthy.
Further curly hair styling tips really depend on the hairstyle you want! If you've never tried styling your own hair before, we recommend visiting a men's curly hairstylist to get a professional opinion on the best style options for your curl type, lifestyle, and overall preference.
A stylist can also give you specific recommendations on how to maintain your style at home until your next hair appointment.
Check out our guide on how to locate the right hair stylist for men with curly hair!
Ready to Change Your Curly Hair Care Routine?
Taking care of your curls doesn't seem so overwhelming now, right? If you're ready to start loving your curly hair, you don't have to wait. Get started with our Formula F=kx products!
Our simple men's curly hair care system was created by men for curly hair for men with curly hair. We've included the most hydrating and protective ingredients including coconut oil, green tea extract, aloe, goji berry extract, keratin, and more—all to help your curls be as effortlessly smooth and sleek as possible.
Check out our curl quiz if you need more help figuring out your hair type and the products you should be using!