We're finally in a time period where diversity of hairstyles and hair textures are celebrated! At the same time, the options for styling can seem endless. This is especially true for black men with curly hair.
If you're wondering how to get curly hair as a black man, how to take care of and style black male curly hair, and how many black curly hairstyles are out there — then we have the answers for you!
Broken down into four parts.
1) How Do Black Guys Get Curly Hair?
2) How To Take Care of Black Men's Curly Hair
3) Best Products For Black Men With Curly Hair
How Do Black Guys Get Curly Hair?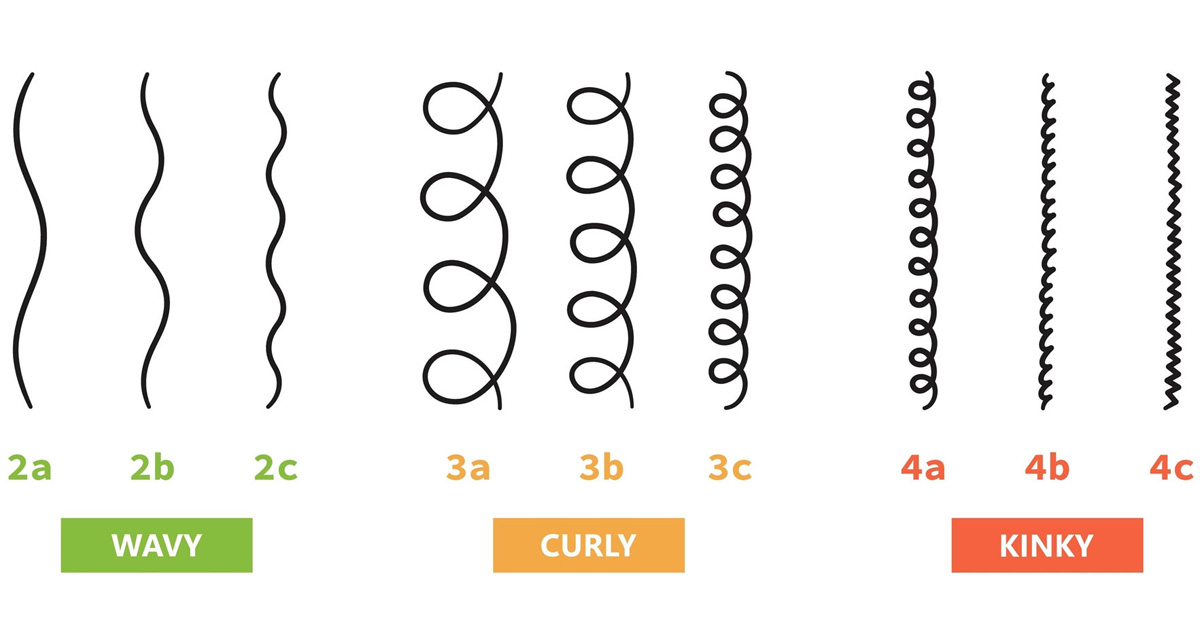 It's no secret that the hair of people with African ancestry is incredibly unique compared to other hair types. Rich cultural traditions surrounding black hair have been passed on for thousands of years, and these traditions continue today in new and exciting ways.
Your hair is worth celebrating by taking care of it in the best way possible!
Why Is Black Hair Curly?
Black hair, including hair for black men, is naturally curly — but it's important to first know what makes curly black hair so unique.
Afro-textured hair, also sometimes known as kinky or coily hair, is much denser compared to other curly hair (type 3c – type 4 on the above hair type chart). It can have a wide range of textures, as well. Just as other curly hair can come in a wide variety of appearances, so can black curly hair.
Afro-textured hair or kinky curls are categorized as type 4 in the Andre Walker Hair Typing System. There are an additional three sub-categories of type 4 hair, which are 4A, 4B, and 4C:
Type 4A hair has a tightly coiled appearance with a well-defined round curl pattern.
Type 4B hair has a tightly coiled appearance with a more Z-shaped curl pattern and is somewhat less defined.
Type 4C hair has a very tight coiled appearance with little to no defined pattern from a distance. Close up, the curl pattern looks very tight and round.
You can learn more about curl types here!
The other question you might have is, why is black hair naturally curly in the first place?
Hair texture is created by our hair follicles and how hair grows from our heads.
Straight hair is caused by hair follicles that grow in straight with a round cross-sectional appearance, wavy hair follicles grow in at a slight angle with an oval cross-sectional appearance, curly hair follicles grow in at more of an angle with a more flat oval cross-sectional appearance, and coily hair follicles grow in at the most extreme angles causing an almost entirely flat cross-sectional appearance.
The gene which causes black hair to be so very curly or coily is not yet known, but it is consistently carried through people of African descent.
What also contributes to the unique texture of black curly hair is the higher percentage of keratin in black hair. More keratin means black curly hair is naturally thicker, grows faster, and becomes even more curly as it grows out.
This is good news. It means if you're asking the question of how to get long curly hair as a black male, it's simply a matter of taking proper care as you let it grow out.
How to Take Care of Men's Black Curly Hair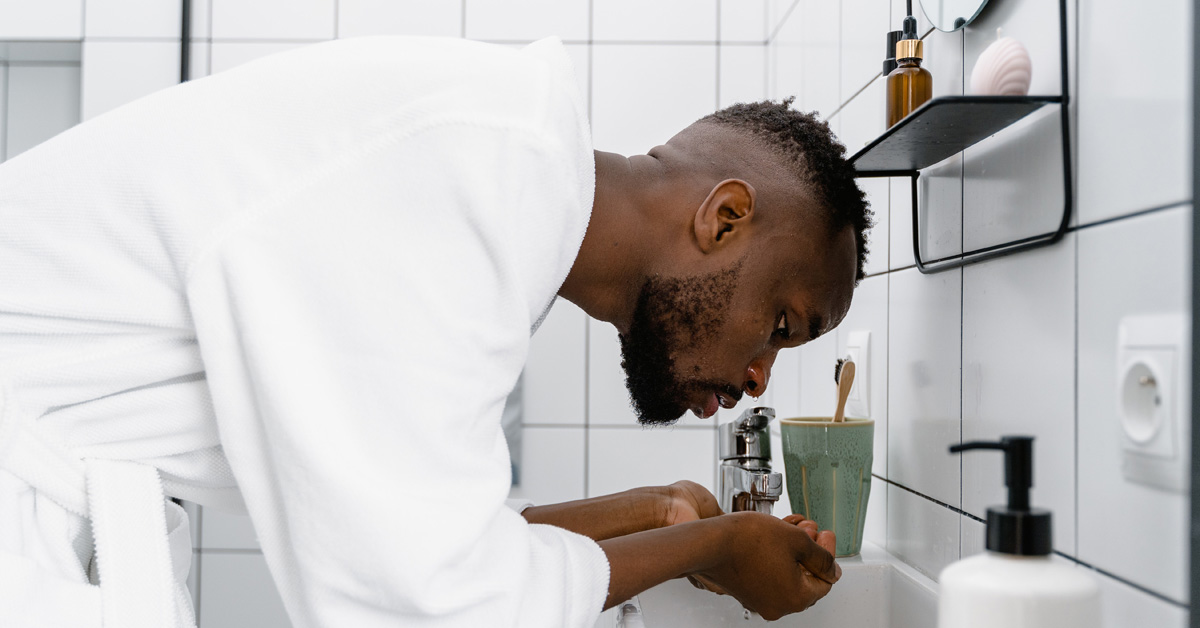 No matter your natural hair texture from 4A to 4C (or if you are a type 3 curly hair black male), getting well-defined curly black hair for men is very doable. We're giving you everything you need to know to achieve better-defined coils or even looser type 3 curly hair. Get ready to glow with confidence over your natural curls!
Besides just knowing about the texture and variety of black hair, there are a few more things to note to improve your hair care. First is that black curly hair is naturally very dry — or rather, the natural oils (aka sebum) your scalp produces to keep your hair moisturized can't easily travel down from the scalp to the ends.
Dry hair is a major reason why tighter curls or thick curls easily get frizzy and brittle.
Black hair also experiences extreme shrinkage after washing. Shrinkage is actually a sign of healthy hair, but it can also affect your styling options. Thankfully, there are many ways to prevent or minimize shrinkage!
Before we can get into styling, you'll need to know the six essential hair care steps for black men's curly hair:
1) Wash Less
Only wash your natural curls 1-2 times a week. Over-washing will strip away natural hair oils. Because black men's curly hair is already naturally dry, the further drying effect will result in over-dried locks that become brittle, get damaged, and of course, frizz.
If you're an active guy, like most black men are, a great option to cleanse without drying is co-washing.
Co-washing is the process of washing your hair with a conditioner. Simple as that. This will strip away grime without drying. Not a Substitute for shampoo! but will do the job until your next wash.
2) Use Moisturizing Products
Perhaps the most important tip on the list, use a moisturizing shampoo and conditioner (and moisturizing styling products). To achieve healthy hair, You need to make sure those kinky locks stay hydrated!
Look for ingredients like coconut oil, glycolipids, green tea extract, keratin, aloe, and goji berry extract — just to name a few of the best. Avoid shampoos, conditioners, and products with sulfates, silicones, and alcohols — these will dry out your curls.
3) Masque It Up
A hair masque is an essential tool for all black men sporting type 4 kinky hair. The masque will drive much-needed moisture back into the cuticle and keep you looking dapper.
It's recommended to mask up once a month.
To do, first, wash your hair and dry it. Then section out and apply the masque. You can use either a specialized product or a deep conditioner.
Once applied, wrap in a micro-fiber towel or cotton T-shirt. Leave the hair mask in for 10 minutes. This will give it enough time to work its magic and rehydrate your hair.
4) Dry Properly
Drying your hair properly is the next key step. Let your hair dry naturally, so no blow-drying.
If you're in a rush, diffusers are a possible alternative to blow dryers if you still want to dry your curls fast, though try not to make it a habit!
No standard towels! The curly texture is prone to friction irritation that can cause the cuticle to raise. This results in increased loss of moisture and frizz.
You can lightly dab your curly hair with a micro-fiber towel or cotton T-shirt to help with drying and prevent some shrinkage.
5) Detangle wisely
For detangling curls both in and out of the shower, use either your fingers and/or a wide-tooth comb. A Denman brush might also be a good option. Personal hair temperate dependent.
Keep hair damp to avoid breakage. That is, only if you want to keep your hair healthy.
This will keep your curls intact and more defined, especially for black curly hair which is already very prone to frizz.
6) Style Properly
Lastly, you need to use the right styling products. This means not only using products with black men curly hair-friendly ingredients, but also the right products themselves.
Some of this will depend on your curl type and how you want to style your hair. The best black male hair styling products include oils, styling creams, and gels. These will define your curls and control frizz while keeping your hair hydrated.
Sparing amounts of argan oil or coconut oil can ease both dry scalp and dry curl concerns, and any added oils should be applied from root to tip before other products.
Curl creams leave black curly hair with lasting moisture and soft curl definition, and we recommend curl cream over a leave-in conditioner. Though both can be used – Especially if you are a black man with long curly hair.
Hair gel can also be used for styling purposes, often in combination with the curl cream.
But, less is often more.
Of course, these five steps are only just the beginning of amazing curly hair for black men! Now that you know the basics of black men curly hair care, next comes the actual styling techniques.
If you're looking for men's hairstyles or styling techniques (such as utilizing a sponge), we have an article that covers all of these things!
The Best Products for Black Men with Curly Hair
The best hair care products for black men with curly hair are ultra-moisturizing and are designed with your hair type in mind. That's where Formula F=kx comes in! Our men's curly hair products are made to help all curl types, including type 4 hair for black men. With ingredients like coconut oil, keratin, green tea extract, and even more natural ingredients, you'll have the well-defined curls you've always dreamed of. For type 4 hair, which is naturally drier, we highly recommend the extra moisturizing system with our curl shampoo, keratin conditioner, and styling cream.
Discover how Formula F=kx can take your curly hair to the next level today!