When building a skyscraper, structural engineers must factor in multiple variables in foundation design. These include the height of the building, gale-force winds, seismic activity, and soil load-bearing capacity. 
Without understanding how these variables interact and affect structural integrity, you'd soon have another leaning tower of Pisa on your hands, or worse…
While failing to put in place a proper hair care routine might not land you on an episode of 60-minutes, like the structural engineer, curly-haired men must understand their hair's unique characteristics to manage and avoid the potential pitfalls of curly hair. 
Great curls aren't hard to achieve, but they do require the proper knowledge & products.
There are three key factors to consider when determining overall curl characteristics: 
What is your curly hair type?
There are several ways to categorize curly hair types in men, but the most popular classification divides hair into 4-types. 
Type 1 is straight, Type 2 is wavy, Type 3 is curly,Type 4 is coily. 
Within each type are sub-classifications A, B, and C, which are based on the diameter of the wave or curl. A denotes a wider curl pattern, B is a medium pattern, and C refers to a tight pattern. 
For the three curly hair types, you'll need to take a closer look at your curl pattern. Identifying your curl shape and pattern (or patterns) is best done when your hair is wet.
The official curly hair type chart for men.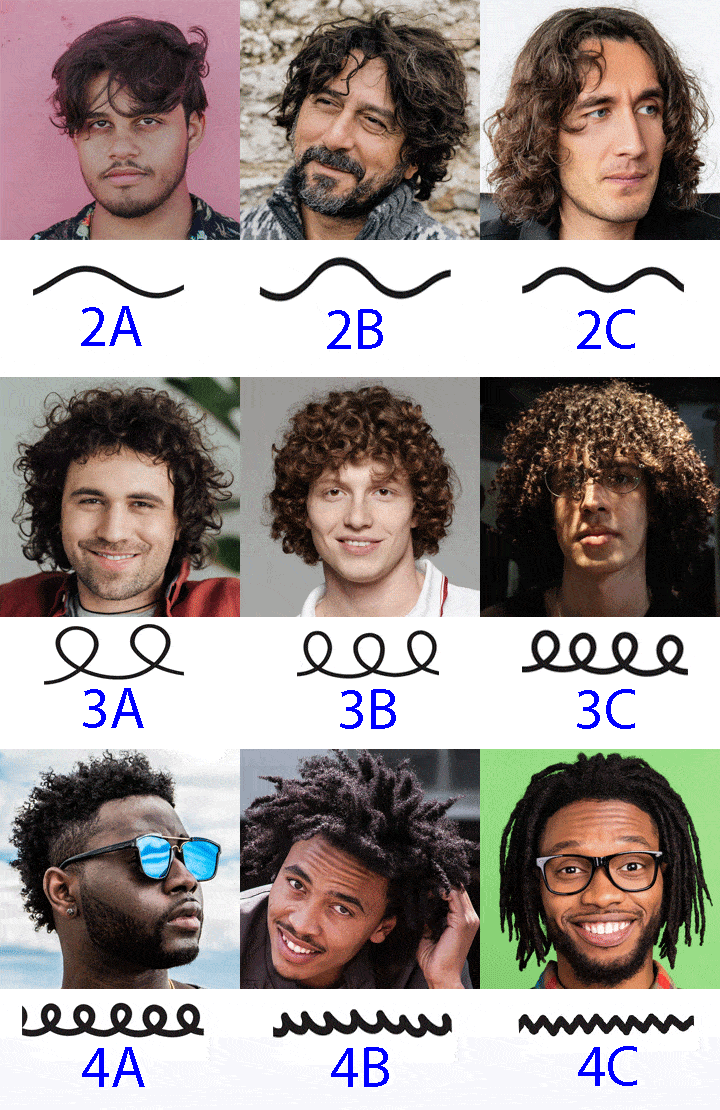 Wavy Hair
Wavy hair, also known as Type 2, sits between curly and straight hair. It has the loosest curls and tends to bend in an 'S' shape. 
Type 2 hair typically sits flatter on the head and has less volume at the root than other curly hair types. 
Depending on the tightness of the wave pattern, it is further divided into 2a, 2b, and 2c.
subtypes:
type 2a: very loose, tousled waves
 type 2b: loose, S-shaped waves
type 2c: thicker, more defined S-shaped waves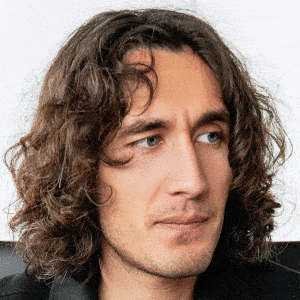 The main issues facing guys with wavy hair are frizz and lack of volume.
Wavy hair is the least dry of the three curl types, as the scalp's natural oils can move down the hair shaft more easily.
Because of this, it's suggested that men with type 2 hair (wavy hair) should wash every 1-3 days using a gentle cleanser. 
A Conditioner should be used as it will add moisture without adding weight. 
When styling, men with wavy hair need to be aware of how much product they're using. 
Too much, and you can easily weigh down and flatten hair. 'This is of particular concern for men with short wavy hair or men with thin or fine wavy hair.
Start with a dime-size amount and work up slowly as needed. Ideally, you'll use a styling product that promotes volume, defines curls, and controls frizz. 
We recommend our defining gel to get the perfect amount of definition without weighing down the curls and reducing volume. 
Mousse is another excellent product for type 2 curls. It adds volume and lift while controlling frizz. 
Check out our curl routine article to learn more about taking care of type 2 wavy hair.
Curly Hair
Curly hair, also known as Type 3 hair, is characterized by a springy, corkscrew-like texture. Depending on the tightness of the curl pattern, it is further divided into 3a, 3b, and 3c.
subtypes:
type 3a: large diameter curls with a loose corkscrew shape
type 3b: smaller diameter curls, springy ringlets
type 3c: tight, dense ringlets
Type 3 curls are when dryness and breakage start to become a problem.
As curly hair tends to be a little drier, Washing your locks only two or three times a week is recommended. 
This gives the natural oils time to coat the hair and keep it hydrated & protected. This is especially true for long curly hair.
An essential product for curly locks is hydrating conditioner. Used along with a gentle, sulfate-free shampoo will keep this curly hair type feeling soft and looking healthy. 
type 3a loose curls may become easily weighed down by styling products like wavy hair. 
Depending on hair density and thickness, either a gel or cream is recommended. 
However, type 3b & type 3c curls may require products with a slightly stronger hold and deeper moisturization, such as a curl cream. 
Leave in conditioner before styling with curl cream is another option if you notice your hair lacking moisture (split-ends, dullness, lack of bounce, or an increase in frizzy hair). 
You can also add Mouse after applying the curl cream to add volume and extra frizz control.
Check out our curl routine to learn more about taking care of type 3 curly hair.
Coily Hair
Coily hair is often referred to as Afro, kinky curls, or Type 4 hair. Coily hair can consist of tight corkscrews or a 'Z' shaped pattern that starts right from the root.
This type often appears shorter due to how tight the curls are, referred to as shrinkage. 
Depending on the tightness of the curl pattern, it can be further divided into 3a, 3b, and 3c.
subtypes:
type 4a: dense coils with a small diameter
type 4b: tightly packed coily strands that often feature sharp angles; hair can be easily shaped for updos and other hairstyles
type 4c: tight, fragile, zig-zagging coils
Type 4 hair is the most prone to breakage and dryness. Proper care is paramount.
This is the driest and most fragile curl type, as the tightly wound coils don't allow natural scalp oils to travel down the hair length. 
Due to this dryness, kinky hair should be washed only 1-2 times a week. 
The best products for kinky hair focus on hydration. This is achieved by using a hydrating conditioner with every wash and applying leave-in conditioner or hair oil throughout the week.
Co-Washing is another grade option for men with tightly coiled hair. 
Curl cream is a must for styling coiled hair.
To learn more about managing coily hair, check out our curl routine article.
Can you have more than one curly hair type?
In most cases, guys with curly hair will have a combination of curl types in different areas of their scalps—generally, curlier on top layers and looser underneath.
Defining curl type is not a perfect science, but it's a great start to identifying the routine most suited to your unique hair type.
Beyond Curly Hair Types: Thickness, Density & Porosity
If you've ever met anyone else with curly hair, then you surely know how diverse curly hair types in men are. Curl type is only one factor that affects how your curls look and behave! 
Every guy's curly hair type is also influenced by the hair thickness, density & porosity. 
These factors determine how curls react to moisture, heat, frizz, and other environmental stressors.
Hair Thickness
First things first, the thickness of your hair refers to the width or circumference of each strand — not how many hairs are on your head (That's density).
Thinner hair often is found with type 2a & type 3a curls, while thick hair is often types 3c or type 4 coily hair in nature.
This sliding scale of thickness-curliness correlation is due to hair strength increasing with thickness. 
Thicker, stronger hair can keep curls springy and tight, while thinner hair is naturally weaker and lends itself to more relaxed curls. 
Both have unique challenges that can be overcome with proper care.
Hair Density
Hair density refers to the number of strands that grow on your head per square inch of the scalp. 
Your hair density is essential to consider when styling & choosing the right haircut, as it affects how much product your hair will need for styling. 
An excellent hair product can lead to poor results when too much or too little is used.
As we already mentioned, hair density is how many hair strands you have on your head. Hair type and density have no relation. 
You can have thick kinky hair with a low hair density — or thin curly or wavy hair with a high hair density. 
High-density curly hair holds shape better than lower-density curls. Further, low-density curls often are quicker to frizz or have curls separate.
For wavy hair or fine curls, start with a small amount of styling product so as to not weigh down hair. 
You'll need to be more generous in using styling agents, shampoo, and conditioners if you have coarse hair or tight coils (type 3c or type 4).
You'll also find yourself using more shampoo, conditioner, and other hair products with higher-density hair than low density because there's more hair to take care of!
Hair Porosity
Hair porosity refers to how well your hair absorbs moisture based on the spacing of your hair's cuticles. 
Widely spaced cuticles lead to high hair porosity, while cuticles that are very close together cause low porosity.
Low porosity hair will have difficulty wholly absorbing moisturizing products. This may cause the product to sit on top of the hair rather than penetrate the strands.
High porosity hair will absorb moisture readily but lose it just as quickly.
To find out your hair's porosity, dip a section of your hair into a cup of water:
●    Low Porosity: Your hair will float on top
●    Medium porosity: Your hair will float somewhere in the middle
●    High Porosity: Your hair will sink to the bottom
High Porosity:
High porosity is fussy. One minute your hair's absorbed too much moisture and is frizzing. The next, it lost all moisture and is lying limp and lifeless.
The key to handling high porosity is using a blend of products that deliver the ideal amount of moisture & protein into the hair shaft before sealing the cuticle. 
To do this, we recommend using a Keratin conditioner as the moisturizer and following with either a non-drying, high-quality gel or a hydrating curl cream – depending on the dryness level of your hair.  
Medium Porosity:
If you've got medium porosity hair, you're in luck. It's the easiest to manage. No extra caution needs to be taken when developing your haircare routine.
Low Porosity: 
Low porosity doesn't want anything inside! That means it's less likely to frizz but is prone to looking lifeless and dead.  
To keep low porosity hair vibrant, it's recommended to use hot (not scalding – that can damage the hair) water when you shower to open the cuticle. 
This will allow the conditioner to penetrate the shaft and deliver much-needed nourishment.
Hair oils or leave-in conditioners are not recommended. Both will weigh down the hair without infusing further moisture into the curls.
Lightweight styling products such as defining gel or mousse will add volume and life to your hair without weighing down.
Conclusion:
With this knowledge in hand, it's time to build out your curly hair routine. For the next steps, we recommend either taking our product quiz. If you'd like to learn more about curly hair management, check out the curl routine article, followed by the styling products and tools guide.
Posted in: Complete Guide to Curly Hair